Puppies
5 dogs and 3 bitches were born on 12 th September to our Sára – Deep Desire Brdské zlato and the Dutch husband James – Non Stop James Bond.
We have chosen very carefully the father of puppies  because of his good health and great exhibition successes. James is Luxemburg and Danish champion. He has won his class on the Championship of champions and he has become the best dog of 2010. All his medical examinations are negative.
 As for type both parents look very similar and as we expected litter C is very well –balanced. All pupies have light golden colour and approximately the same birth weight.
Parents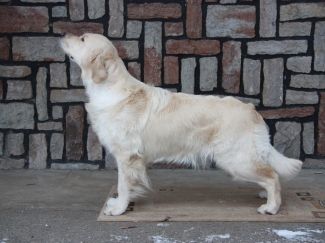 Luxemburg Champion, Nederlands Champion
Health: DKK BB, DLK 00
OCD, LPC, LPA, Inc negative
Golden Sirius © 2010 | Developed by
Kinet